Market watch
VUZIX
NOT A COMPETITOR – device purchased by MFKK
http://vuzix.com/augmented-reality/products_wrap920ar.html
The Wrap™ 920AR augmented reality eyewear and maxReality™ plug-in for Autodesk® 3ds Max® empower you to turn your desktop into a "HOLO-Deck".
•Twin high-resolution 640 x 480 LCD displays
•Equivalent to a 67-inch screen as viewed from ten feet (approximately 3 m)
•60 Hz progressive scan update rate
•Ultra-low video distortion
•31-degree diagonal field of view
•24-bit true color (16 million colors)
•Independent +2 to -5 diopter focus adjustment
•Two discrete VGA (640 x 480) video cameras
•30 frames per second video capture at 640 x 480
•USB video camera – no proprietary drivers required
GOOGLE GLASSES:
Technical details (not official):
· A display of unspecified resolution: using some sort of projection technique, possibly similar to theLumus Optical Engine Module)
· Camera: Most of the photos taken with Glass have a 2048×1536 resolution which corresponds to a 3.2MP camera. Technically capable of up to 1080p recording, but probably due to hardware limitations, we've only seen up to 720p videos.
· Camera button
· Standalone processor: this is an interesting revelation because it would appear as though Glass will be a standalone device, not just a smartphone accessory
· Unspecified amount of on-board memory
· Touchpad on the side for input
· Microphone for recording and voice-command functionality
· Speaker for feedback
· Sensors: gyroscope, acceleormeter, and magnetometer (e-compass) confirmed. No direct confirmation of GPS
· Unspecified radios: Google didn't detail the on-board radios, but I'm willing to bet we're looking at WiFi and Bluetooth
· ~36 grams
http://arstechnica.com/information-technology/2012/05/google-glasses-patent-hints-at-speech-to-text-display-for-deaf-users/
http://usatoday30.usatoday.com/tech/news/story/2012-06-27/google-glasses/55873080/1
http://www.roadtovr.com/2012/07/02/the-latest-on-google-glass-early-technical-details-pre-order-units-made-available-to-io-attendees-for-1500-729
Olympus MEG4.0 smart glasses will photoshop the REAL WORLD
http://www.theregister.co.uk/2012/07/09/olymous_meg4/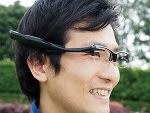 EPSON
Moverio™ BT-100 Wearable Display
http://www.epson.com/cgi-bin/Store/jsp/Product.do?BV_UseBVCookie=yes&sku=V11H423020&iref=internal_search#product-info
Perceived Image Size: 80" at 16.4 feet (5m)1
Resolution: 960 x 540 pixels (qHD)
Pixel Number: 518,400 dots (960 x 540 x 3)
Micro-Projection Optical Engine:
0.52" Poli-silicon TFT active Matrix Color LCD
LED light source
Aspect Ratio: 16:9
Field of View: 23 degrees
Color Depth: 24-bit color (16.77 million colors)
Refresh Rate: 60 Hz (NTSC, Android)
Transparency (of light guide): up to 70% maximum
Lens Shade: Removable
Sound Output: 1.5mW / 16 ohm (2.5mm Mono x 2)
Virtual Surround Sound: Dolby® Mobile
Dimensions (D x W x H): 7.0" x 8.1" x 1.9" (178mm x 205mm x 47mm)
Weight:
without lens shade: 7.76 oz (220g)
with lens shade: 8.47 oz (240g)
eSight
http://www.esightcorp.ca/
eSight Eyewear is a new class of wearable, electronic assistive technology for people with low vision. Incorporating a high-resolution video camera and extra wide near-to-eye video screens, eSight Eyewear modifies your view of the world to maximize your remaining eyesight.

eSight Eyewear offers many video enhancements including zoom in/out, contrast and colour optimization, edge enhancement and brightness control. An eSight-certified low vision specialist can determine the most effective eSight Eyewear video processing algorithms for your unique vision condition – and the activities you love to do.